splane is a writer and illustrator.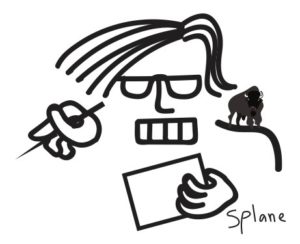 She taught high school English, trained student teachers, and developed progressive curriculum in Chicago. She later began working for a textbook development house and was promoted to director of the college division. splane earned her MFA in writing from Antioch University Los Angeles. She co-founded and published the news website Inside Bainbridge, independent news partner with the Seattle Times, which for four and a half years served the community of Bainbridge Island, Washington, pulling in an average of 5,000 reads per day. The site was voted among the top five most-popular news blogs in the Seattle area by King 5 readers/viewers. She also wrote for On a Ledge and ProgressiveKid Reader. Her stories have been anthologized.
splane illustrated A Hot Planet Needs Cool Kids by Julie Hall (Green Goat Books), A Story of Witchery by Jennifer Calkins (Les Figues Press), and #Next Level Manners by Rachel Isgar (Please Pass the Manners). She has provided illustration, graphic design, and media consulting for many small businesses. splane also co-founded trailblazing eco-e-tailer ProgressiveKid. PK's products, many of which were designed by splane, were carried by Whole Foods and featured in national magazines.
She uses the name splane professionally because her given name is so generic that a Google search for it yields more than 58 million entries.